Jill Beltran
USDF Gold medalist, clinician
Next Clinic - May 22
Monthly Clinics available
starting at 8:30 am
Space Limited for these clinics!
Sign up Here
Or call 951 660 7442
We are extremely pleased to present USDF Gold medalist, clinician Mrs. Jill Beltran who will be joining us for an instructional clinics hosted by Liston Stables. With Jill's knowledgable instruction, practical suggestions, she assists riders and their horses work through issues that keep them from excelling in their progression. Jill dedicates her focus on correct contact, and thoroughness of the rider aids and position so as to bring into unison each rider and horse team. Jill makes her living as a professional clinician and teacher.
Liston Stables is looking forward to welcoming all levels of riders to Jill Beltran instructional clinic.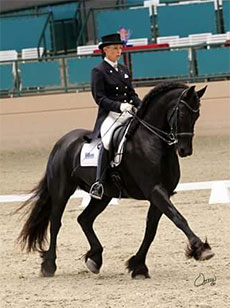 Jill earns her gold medal at Del Mar Nationals 2012 with Waling D at the time he was the only Grand Prix Friesian competing in the United States. Throughout the years, Jill has earned a number of awards including Dressage Horse of the Year, 8th in 2011 Intermediate 1, median score 70%, USDF Champion Intermediate 1, Breed Award 2011, USDF reserve Champion Prix St. George, and so much more. To see more of Jill's accomplishments, follow the links below.
This clinic is open to all breeds and all riding levels, and auditors of all ages welcome. Each rider will receive a 45 minute private lesson.
Cost: $80 per 45 minute lesson ,
Auditor fee: $10
Liston Stables will provide water but attendees must bring their own lunch

Stabling available: $10 per day - (must provide your own hay)
Click here to see available stalls

Starting 8:30 am
Please sent in your entry form to reserve your space, the schedule will fill up quickly.